OPINION
Reality Trumps Chipotle's Animal Welfare Claims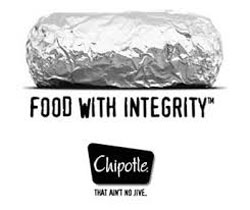 Chipotle is a fast food company that talks a big game about sourcing animal products from responsible farms. The company's "food with integrity" slogan assures customers that, "when sourcing meat, we work hard to find farmers and ranchers who are doing things the right way."
But a careful examination of Chipotle's animal welfare rhetoric quickly confirms the lack of any hard commitment to the welfare ideals it so breezily espouses. Without going into a systematic analysis of Chipotle's marketing verbiage, it's quickly apparent that the most common qualifier anchoring Chipotle to factory farming is this: "whenever possible." Yes, Chipotle will "work hard" to support welfare standards "whenever possible."
But these qualifiers have proven meaningless for the once McDonald's-owned company. In 2013, when the supply of antibiotic-free beef dropped, the company allowed factory-farmed antibiotic-laden beef into the supply chain. As this was happening, the company' co-founder was telling the media—who acted as scribes—things such as "The more consumers understand the benefits of eating food from more sustainable sources, the more they're going to expect it from everyone."
A sinister calculation is at work for Chipotle. On the one hand, it waxes rhetorically about its high welfare standards and this rhetoric serves to improve the company's popularity. On the other, this intensified popularity means that Chipotle's demand for meat and dairy will outstrip the supply of meat and dairy available from the farmers it earnestly claims to support.
The upshot is almost criminal: the company benefits financially from a pro-animal welfare reputation while giving the idea a token presence at best in its increasingly expansive supply chain. At the end of the day, if Chipotle needs commodity beef, chicken, or pork, it gets it.
Not terribly far beneath the media scrim, though, some critics are becoming aware of Chipotle's disingenuous dedication to sustainable and humane animal farming. A rancher named Mike Callicrate, for one, has been on a one-man mission to highlight the disparity between Chipotle's rhetoric and reality. He demonstrates with compelling evidence that, as Chipotle was trotting out its "Food with Integrity" program it was also buying standard commodity beef from Australia. Others are following the same scent.
And Chipotle, which is as media savvy as a company can be, is well aware that the simmer of truth about its reliance on commodity meat is about to reach a boil. It is thus not at all surprising that, last week, the company, in a move that seemed obviously preemptive, shouted out to an adoring media that it had suspended one of its pork suppliers for welfare violations. The farm was using farrowing crates for sows, but Chipotle prefers "deeply bedded pens."
The media response—overwhelmingly supportive of a company that would make such a sacrifice—bought the tactic hook, line, and sinker. But in so doing it misses three critical points.
First, this somewhat arbitrary illumination and objection to one farm practicing one tactic that is certainly inhumane hardly means that Chipotle is objecting to a wide range of similar welfare violations necessarily endemic to its rapidly growing supply chain of beef, chicken, and cheese. This company is smart. It knows that a voluntary elimination of one farm will garner the company praise while defusing any journalistic interest in sniffing out Callicrate-type leads to discover what's happening welfare-wise on the farms supplying its other animal products.
Second, Chipotle's call-out-a-bad-farm (and keep the farm secret) tactic only serves in the long run to further the aforementioned sinister calculation that the company uses to get rich. As one small-scale and pasture-based pig farmer told NPR, "It's all about scalability . . . [Chipotle] can find a few hundred farmers to do that, and they have. Can they find a few thousand, or tens of thousands, to feed America? I think that's going to be challenging." But the company's own rhetoric, as noted, only intensifies that challenge.
Third, the company's profits are hardly going to suffer because a few restaurants cannot serve carnitas. Consumers will not stomp off in protest. Instead, they'll replace pork with some other animal that suffered, most likely in factory-like conditions, in order to fill a tortilla with 1100 calories of food.
At some point, the media must realize that Chipotle is a fast food chain and that, by virtue of that fact, it will never be able to realize its trumped-up rhetorical aspirations. In fact, the more it articulates those aspirations, the more blatant its hypocrisy will become. Journalists should not stand by and allow rhetoric to replace reality.
Especially from a burrito chain that has a way with words.