Voiceless Gets A Voice In The Australian Media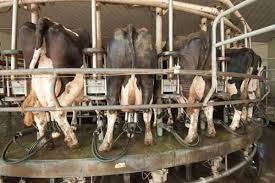 Article Review:
ABC Rural - Jan 22, 2015






Animal advocates have long lamented the popular perception that milk and eggs are, relative to meat, harmless manifestations of the animal-industrial complex. While Gary Francione has frequently noted that there's possibly more suffering in a glass of milk than a steak, consumers have generally remained in the dark about the brutality required to bring eggs, milk, yogurt, and cheese to our plates.
The fact that these products are not the immediate result of slaughter fosters the perception that they come to us without welfare implications.  An extensive body of research suggests that nothing could be further from the truth. But big media has done little to correct that perception. Nor does it seem interested in doing so.
It was therefore gratifying to see an article in the Australian media—by ABC Rural—present accurate information that helped clarify this common misconception. The brief piece leads by highlighting a report about to be released by an animal welfare organization called Voiceless. The writer, Anna Vidot, quotes a Voiceless spokesperson detailing some of the problems with dairy:
A lot of people don't realise that a cow must have a calf every 13 months in order to be able to produce a high volume of milk, and our biggest concern is, firstly, the separation of the cow and calf. We've documented scientific evidence how distressing that process is. Then, also, the early slaughter of around 800,000 bobby calves every year – these are calves that are born and slaughtered within five days.
Voiceless's assessment isn't perfunctorily second-guessed, as so often happens to animal advocates in U.S. media reports, nor is its message overshadowed by the competing voice of industry, which is always eager to spin the story away from suffering. Completing the picture of abuse on dairy farms, Vidot adds that, "The report raises a number of concerns about tail docking, dehorning and disbudding (the removal of horn buds from calves), as well as the treatment of male or 'bobby' calves, and the workload of mature cows."
Only then does she lend the dairy industry an opportunity to defend these actions. As presented, what dairy advocates offer is both predictable and, for critical readers, an unconvincing depiction of reality. As Vidot notes, "the industry said calving once every 13 months did not place an unacceptable burden on dairy cows."
When it comes to the separation of calves from mothers, an industry spokesman says, "In states where bovine Johne's disease is an issue, the recommendation for the least possibility of Johne's being transferred from generation to generation is the removal of the calf within 12 hours." None of this does much to assuage the suffering that Voiceless documents. Vidot, for her part, treats industry with no more or less scrutiny than she treats Voiceless. It's just fair reporting.
The piece is by no means a condemnation of animal agriculture or even eating animals. In this respect, it may not accomplish what animal advocates want to see happen. Nonetheless, it's a rare example of a journalist refusing to subsume animal welfare to corporate interests. Given the sad state of animal journalism today, this is progress.