International Business Times Stuck on Old Animal Rights Stereotype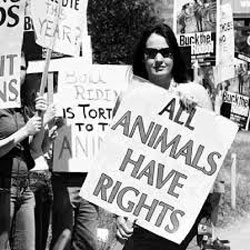 Article Review:
" US Agriculture Officials Call For Independent Review Amid Scandal Over Nebraska Meat Research Facility"
International Business Times - Jan 23, 2015






Terminology matters. The descriptions that reporters use to characterize various perspectives on an issue can carry connotations that reiterate stereotypes and reinforce misconceptions. This axiom is especially true when it comes to animal issues and the media.
A glaring example of such terminological confusion recently came in a brief article on the USDA's reaction to Michael Moss's powerful piece on its Meat Animal Research Center.
Writing in the International Business Times, Maria Gallucci, who essentially showcases the center's promise to clean up its act, drops a notable gaffe a few paragraphs into the piece. She writes, "The Times investigation sparked outrage among animal rights advocates and average Americans."
This sentence might seem innocuous. But it quietly perpetuates at least two popular misunderstandings, both of which are harmful for animals and those who aim to help them.
The first is that animal rights advocates hold a set of beliefs that are fundamentally distinct from mainstream thought. While the behaviors of animal advocates—vegetarianism, veganism, or overt protests again animal exploitation—often visibly separate them from "average Americans," the main idea they espouse—that sentient animals deserve to be treated with basic moral consideration based on their ability to suffer—happens to be perfectly consistent with the beliefs of the vast majority of Americans. Average American care deeply about animals and hate to see them suffer.
They just don't act consistently on those feelings—an important point that the author's poorly chosen terminology obscures.
The second misunderstanding promoted by Gallucci's sloppy sentence centers on the word "outrage." Gallucci suggests that both "average Americans" and "animal rights activists" experienced "outrage" at the articles contents.
In fact each group experienced notably different kinds of outrage. "Average Americans" were outraged at the torture inflicted on animals at the Meat Animal Research Center. "Animal rights activists" were not the least bit shocked by the horrors revealed by Moss. Their outrage was, instead, over Moss's implicit assumption that what he documented at the Meat Animal Research Center was somehow an anomaly.  Animal activists know that intense suffering and abuse pervade every link in the chain between farm and fork and, again, they behave in a manner that's more closely consistent with that knowledge.
In the end, Gallucci's casually drawn distinction between "average Americans" and "animal rights activists" obscures one group's depth of familiarity with animal suffering and the other's failure to understand the gap between ideas and action.